GeekShot's latest job was a weekend full of Steam Powered Giraffe.
First was shooting and printing the photo ops for Steam Powered Giraffe on Saturday March 23rd. They hosted a fan meet and greet along with our photo ops at
Queen Bee's
. For $20 fans got their photo with the band, just like ours below. Right after the photo session the band signed autographs and took personal photos while we printed up all the 8x10s. We were able to get everyone their print before the autograph session was over. In addition to the prints everyone who got a photo op can get a free digital copy of their photo. If you don't have yours yet, send us a message through the contact form on this site.
If you're interested in a photo op with Steam Powered Giraffe, keep an eye out for future opportunities on their calendar and our site.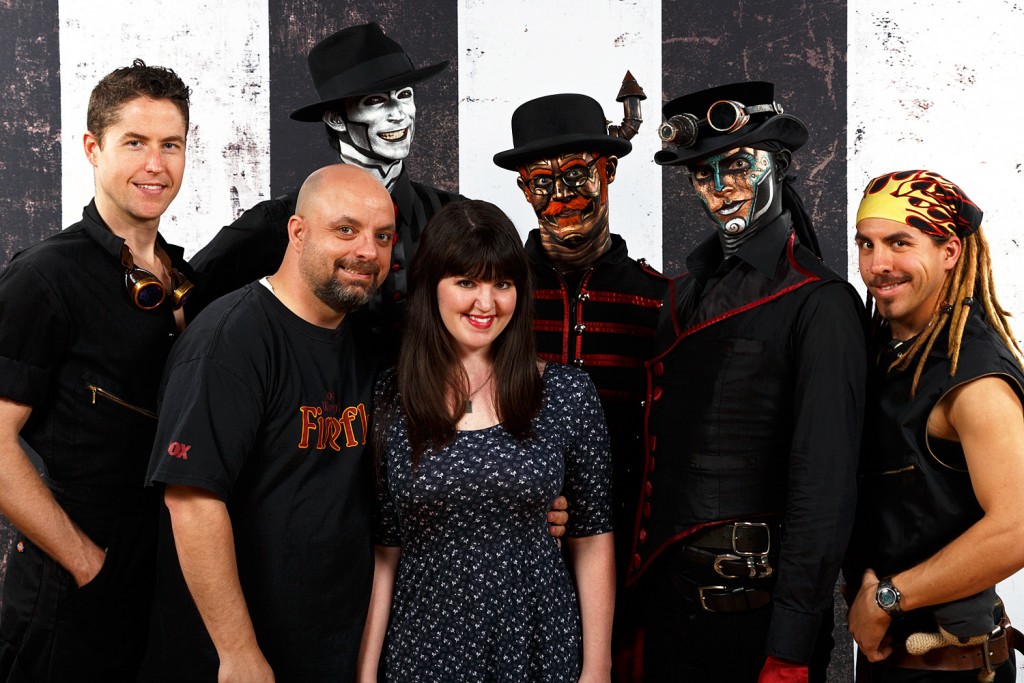 Then on Sunday the 24th SPG had 2 concerts at the world famous La Jolla Playhouse in the Potiker Theater. These were incredible performances! There was a lot of production involved including projection, fog and incredible sound by the band's (and the Playhouse's) sound engineer. We spent most of the 2 PM show taking photos, not only from our seats, but also roving around the theater whenever and wherever possible. During the 8 PM show Beth was able to stay in her seat while she shot video. James, however, was never in one place for more than a few minutes as he used Michael Reed's camera to shoot a variety of footage. Beth has uploaded the performance of
Brass Goggles
already (see below). You may see more of the stuff we shot soon!
These are just the first of many shots we'll be posting on our flickr pages from the show: