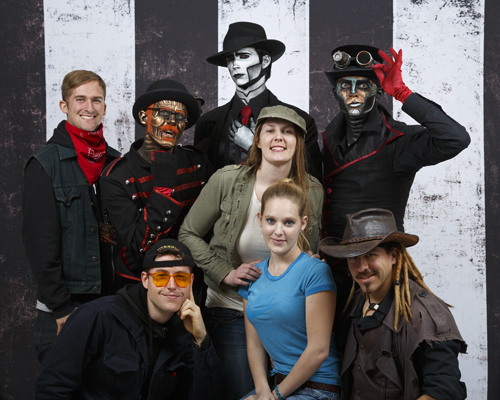 When and where is the photo op session?
1-2 PM on March 23, 2013 at
Queen Bee's Art & Cultural Center
3925 Ohio Street San Diego, CA 92104
How much does a photo op cost?
$20
What do I get?
A professional photo with the band, an 8×10 print, and a digital copy upon request.
How many people can be in one photo op?
A maximum of 2 fans per photo. If you have a larger group, please see Beth or James to discuss options.
What should I wear?
Whatever you want! You can come as your fanbot, all dressed up in your steampunk gear, regular clothes, etc. Be advised that white doesn't photograph well.
Which band members will be in my photo?
There are two answers: 1. The band members' availability will determine who will be at the photo session
2. Whoever you want that is available. You can have just Rabbit, the entire band, just the humans, or any combination. Let us know when it's your turn!
As of today, only Matt Smith will be unavailable due to prior commitments.
When will I get my print?
All prints should be available by the end of the autograph session. Don't leave without picking yours up!
How do I get my digital copy?
Email us any time after the event and give us your description. Your ticket will have our email address. You can also use the
contact form
on our site.
How can I pay for the photo op?
We accept cash and credit cards.
Can I get more than one photo?
If you purchase more than one photo op, yes! If you want an extra copy of your photo it will be $10.
How long will my photo op last?
We aren't going to rush you through like other convention photo ops, but please respect other fans by not having extended conversations. 30-60 seconds will be the typical photo op length.
Can I get an autograph or give a gift?
There is an autograph session right after the photo ops at 2PM!
When should I be there?
Plan to arrive a few minutes before 1PM to make sure we have time to get through everyone. Don't worry if you show up a little late, we'll be taking photos during the entire hour.
Will my print be available to get signed that day?
We can't guarantee this, but the earlier you are in line, the better your chances.
Will you sell out?
There is a limited number of photo ops available to make sure everyone gets a quality experience. We're not expecting to sell out, but it is possible.
Will you publish my photo online?
Not unless you give us permission in advance. We respect your privacy.
Can I publish my photo online?
Yes! The photo is yours. If you want to show it off, please do so!